Initial Teacher Training (ITT) – Get into Teaching
Lewes Teaching School Alliance is part of a growing partnership comprising a diverse range of schools across East Sussex which present dynamic and exciting training possibilities for those wishing to pursue a career in teaching. Our training programme is delivered in partnership with the Universities of Sussex and Brighton. Our partner universities have a long-established record of excellent initial teacher training, and successful completion of our course will lead to a Postgraduate Certificate in Education (PGCE) with Qualified Teacher Status (QTS).
As a trainee teacher on our programmes, you will have the opportunity to fully immerse yourself in school life and will be treated like any other member of the teaching staff. This approach will allow you to experience all aspects of the role of a teacher, both inside and outside the classroom. The practical nature of our provision, combined with the opportunity to work alongside and learn from experienced, outstanding practitioners, constantly reinforces the link between theory and practice.
To learn more about training and working as a teacher in East Sussex visit : https://www.eastsussex.gov.uk/educationandlearning/supportforteachers/teaching-in-east-sussex/become-a-teacher/
Please click the diagram below for a summary of the routes into teaching :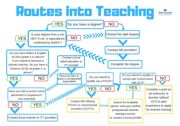 East Sussex has a strong alliance of Teaching Schools who are committed to Teacher Development and school improvement in the region. Click icon below for further information