Governing Body
Every school has a governing body whose members work as a team. Governors are responsible to parents, funders and the community for making sure the school provides a good quality education. Governors also promote high standards of educational achievement. They do this together with the Headteacher, who is responsible for day-to-day management of the school. Governing bodies may also include representatives from the church, charitable trust or business interests. The term of office is four years for our Governors at the school.
Governing bodies may include :
Parent Governors who are elected by other parents/carers at the school
Staff Governors who are elected by school staff
Local Authority Governors who are nominated by the Local Authority but are appointed by the Governing Body
Co-opted Governors who are appointed by the Governing Body
Foundation/Trust Governors who are appointed by the Lewes Co-operative Learning Partnership (LCLP)
The Headteacher is a member of the Governing Body by virtue of their office.
If you have an enquiry for the Governors please email the Clerk in the first instance; she will then forward your query as appropriate.
The current Chair is Miss Sarah Roberts. The current Vice Chair is Mr John Griffiths.
All Governors have had a Disclosure and Barring Service (DBS) check.
Resigned within the school year 2018-2019
Mr Jason Knight (Parent) Term of office : 27/11/2015 - stepped down 05/11/2018
Dr Penelope Leach (Local Authority Governor) Term of office: 06/05/2017 – stepped down 19/12/2018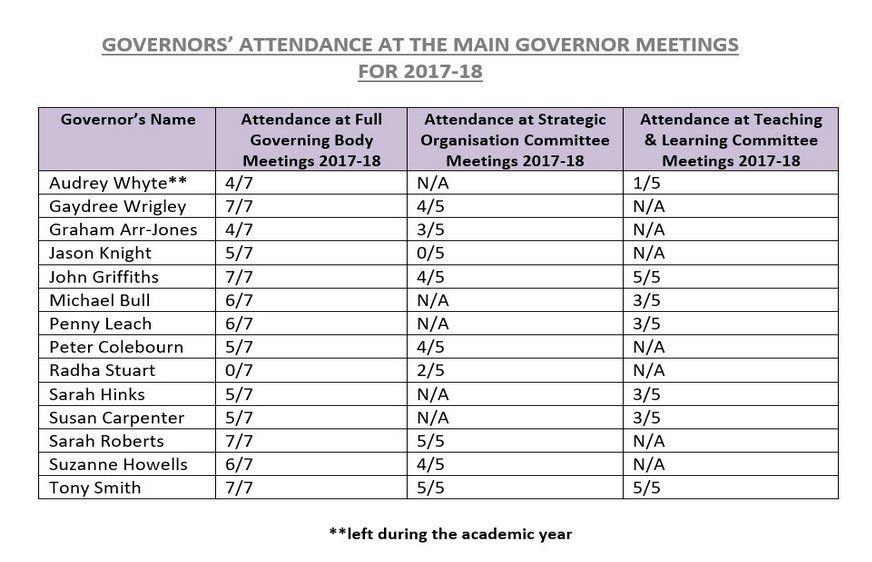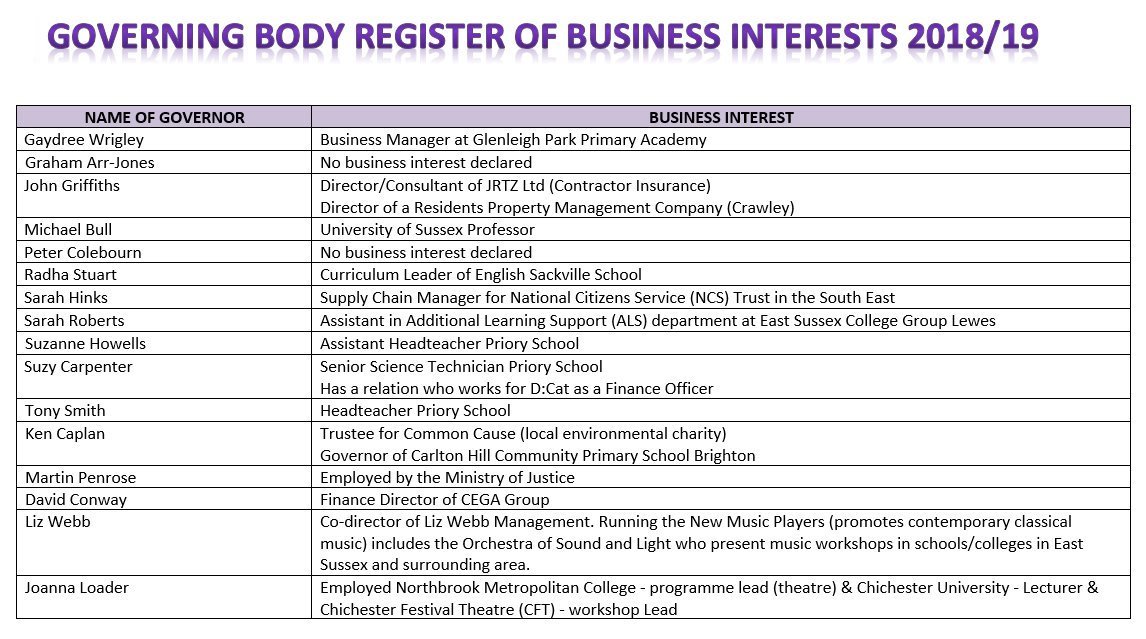 Mr Graham Arr-Jones
Professor Michael Bull
Mr Ken Caplan
Miss Susan Carpenter
Mr Peter Colebourn
Mr David Conway
Mr John Griffiths
Ms Sarah Hinks
Miss Suzanne Howells
Mrs Joanna Loader
Mr Martin Penrose
Miss Sarah Roberts
Mr Tony Smith
Mrs Radha Stuart
Ms Liz Webb
Miss Gaydree Wrigley