Gardening Club and the Vegetable Garden
5 February
Gardening Club will begin again on Wednesday 6th of February 2019 and is open to all KS3 (Year 7,8 and 9) students.
Jobs we will be doing outdoors are potting on strawberries, making newspaper plant pots ready for Spring and building a new planter - indoors we will make garden designs and bug houses. If students wish to attend, please contact Mrs Hockin in the Design and Technology department.

Spring Update
Over 2018 the Food Technology department successfully developed a small vegetable garden in the staff quad. With help from Forest School and the Gardening Club we had an abundance of crops! All the staff and students who have worked in the garden have enjoyed sowing, growing and learning about how the gardening year works.

The Forest School have also built living willow screens that have now matured; these are both sculptural and give privacy to staff who wish to sit outside during their break. Both the Gardening Club and the Forest School diggers have been issued with a "Gardening Passport" which lists the new tasks they have undertaken as they dig, compost, sow seeds and thin out tender seedlings – all a learning experience that could help them in future should they choose to go down the route of professional or home gardening.

The garden has been initially set up for elements of Science on the KS4 curriculum. Sustainability, organic farming, vitamins and air miles are all part of the KS3 curriculum – how better to illustrate this than with our own organic veg plot! On the KS4 curriculum, Year 10 students in Food Tech have compared chard and rocket from the garden against identical shop bought and packaged vegetables, testing them for vitamin C with some very illuminating results. Home grown really is best!

There are connections for the garden with many subjects taught at Priory, from Science (Biology and symbiotic relationships), Geography (soils and substrate) to Classics – there is an Acanthus growing in the bee garden, which is the leaf design on the Corinthian columns in Greece and Rome!

Here are a few before and after shots of the garden just to show how well it has developed through last year. The pictures were taken in January, April and July.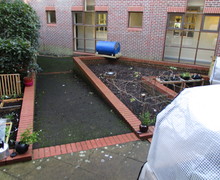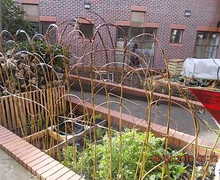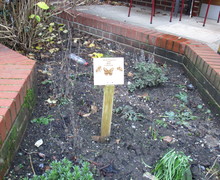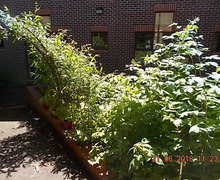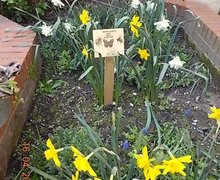 Here is fruitful July!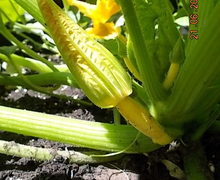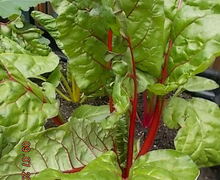 During the summer vacation the garden vegetables spilled over. The veggie box pictured below contains Swiss chard, runner beans, courgettes, cucumber, rhubarb and herbs, all picked in August and taken to the Lewes Community Chef, Robin Van Creveld. Robin helps local families learn how to cook nutritionally balanced and affordable family meals. What better place for our crops, than in his pots!