A Fruitful Forest School Venture
4 March
Today, we were visited by Martin Crawford, who has spent over 20 years in organic agriculture and horticulture and is director of The Agroforestry Research Trust, He has written a number of books and has created a number of Fruiting Forests.
Martin and John Parry came to help us form our ideas for this year's John Muir project. We are building a Fruiting Forest Garden on an unloved area near to the music block and tennis courts. We are hoping to plant a range of trees and shrubs that will produce edible fruits and nuts. Some things will take quite some time to establish and fruit, but others will be ready to try this summer.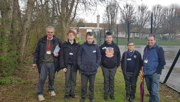 John is very kindly donating some plants to our garden and Martin helped us to work out where they would flourish. We've had to do a lot of planning already, we've measured the space, clearly mapped out existing trees and land features and we had to test the soil to check the acidity, so we can find suitable plants.
It was great to meet Martin and we learnt a lot from him about how to make a success of the things we would like to plant. We asked him for advice on attracting pollinators and he helped to advise us on problems we would have to overcome. Unbelievably, watering was something he thought would be a challenge, because it might just stop raining at some point this year. J
We now feel like we understand what we need to do, it is going to be hard work, but we are excited about the legacy we will leave for everyone in the school.
By Cody, Luke, Ashley and Brandon