Forest school lockdown project
25 March
Forest school lockdown project
Whilst the world was on pause, this year's forest school team were planning their John Muir legacy project.
Following on from the previous year's inspirational visit from Martin Crawford, and combining ideas from Agro-forestry, they have embraced the idea of creating Priory's very own Forest Food Garden.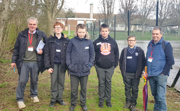 Put simply a Forest Food Garden is a low maintenance garden, which is filled with plants that produce edible fruits, nuts or foliage. They are usually designed to mimic a natural forest.
Dr John Parry inspired our project when he very kindly offered to donate a number of fruit trees to the school, so the students spent time researching the plants to find the best spot for each of the trees and decide how we would create forest like space.
Following Martins advice, the group carefully cleared a plot of land just behind our music block. They measured it, tested the PH of the soil and plotted how the time of day affects the light.
This week the team took delivery of a variety of wonderful young fruit trees, pears, apples, quince, cherry, buckthorn and berry bushes to name a few. The trees had been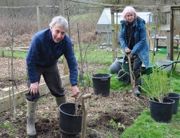 lovingly looked after by Tony Whitbread, on our behalf, since the first lockdown had brought everything to a halt. Meridian TV came to school to capture the moment that Tony and his wife handed the plants over.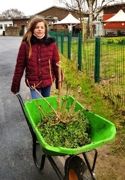 Working together the Forest School Team planted the trees in just the right spot to thrive and we hope, one day a beautiful mini forest will provide edible delights for the whole school to enjoy.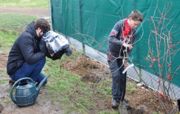 We have still to create a woodland pathway and plant some understory plants which will attract pollinators and provide a haven for wildlife but we the project is well underway. We are very much looking forward to our summer celebration when we will welcome visitors to our young forest food garden in July.
If you would like to see our Meridian News broadcast click the following link:
https://www.itv.com/news/meridian/2021-03-24/school-pupils-create-forest-food-garden-to-learn-about-sustainability
If you would like to find out more about Forest Gardens see this webcast about Martin Crawford click the following link:
https://www.youtube.com/watch?v=Q_m_0UPOzuI
If you would like to hear about our sister project at the University of Sussex click the following link:
https://anchor.fm/ffgsussex76/episodes/Foraging-For-Thought-Ep-1-escrk1
If you would like to be part of our Green United environmental projects please speak to Mrs Twilley. Please click the following link for further information: